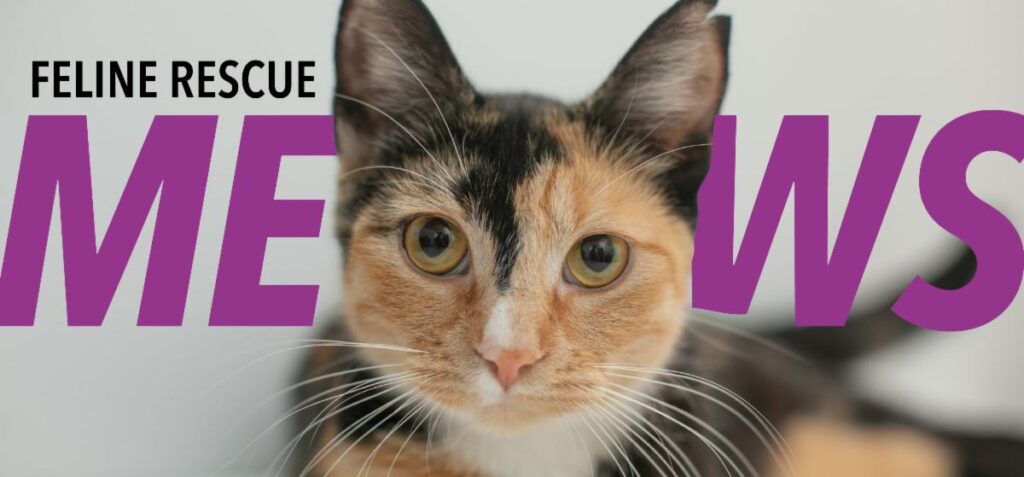 Feline Rescue's Virtual Annual Meeting
On April 25, Feline Rescue held its Annual Meeting via Zoom due to the COVID-19 restrictions. The meeting was led by Elaine Grittner, Chair, Feline Rescue Board of Directors, with reports by Lisa Goddard, Treasurer and Rob Nordin, Chair, Development Committee.
Highlights of 2019
Five new board members in the past year for a current total of 10 board members.
New executive director, Phil Manz, started in October 2019.
Significant gain in investment income in 2019 over 2018.
Total assets as of December 31, 2019 = $2,348,000.
Fundraising events included: Cat Video Festival, Cat Calendar Contest, Alley Cat Bash, Indeed We Can, Cat Claw Clipping Clinics, Give to the Max and Target Circle.
Initiation of Kittens & Conversations to personally connect with donors.
$128,000 received in estate or one-time gifts.
COVID-19 impacts in 2020
Market uncertainty and loss in revenues.
Shelter remains temporarily closed.
All shelter cats not adopted were moved to foster homes in March.
Adoptions halted due to social distancing restrictions; working on temporary adoption procedures.
Fundraising events cancelled or being re-imagined.
Strategizing fundraising opportunities with anticipated decrease in donations.
Applied for and received Payroll Protection Program funds.
Other challenges for 2020 and beyond
Reaching out via personal contact with donors.
Developing donor recognition programs that have good visibility.
Donors/volunteers hope their surrendered or transitioned cats will be welcome at Feline Rescue when that time comes.
The entire Powerpoint presentation is available on the Feline Rescue Website. Click on 2020 Annual Meeting Presentation under BOARD MEETINGS.
Completion of 2019 Financial Audit Due by May 21
By Lisa Goddard, Treasurer, Feline Rescue Board of Directors
The Feline Rescue Finance and Audit Committee will be hosting the final version of the 2019 Financial Audit process on May 21 at the meeting of Board of Directors.  We contracted for a financial audit with the firm of Lewis, Kisch and Associates, Ltd., Certified Public Accountants. With my Board of Directors colleagues, Sharon St. Mary and Brad Downey, we have met together or with the external auditors from Lewis, Kisch and Associates three times this year. We have focused on changing terminology to increase our understanding and hopefully yours. With the approval of the full Board of Directors, the audit and IRS Form 990 (our tax return to the IRS) will be posted on our website, www.guidestar.org and www.smartgivers.org.
COVID-19 Appeal Results and Large Anonymous Gift
by Rob Nordin, Chair, Development Committee
With the one-time exception for the "Pandemic" Payroll Protection funds from the federal government, 80% of Feline Rescue's revenue comes from gifts of individuals, both during their lifetime and through their estate. Please accept our thanks to everyone who has contributed to 2020 COVID-19 appeal. Your 2020 collective support has matched your 2019 collective support when many responded to our Double the Love campaign that started in February that year. A number of donors also contributed to us through the GiveatHomeMN week, May 1-8. This effort was brought forth by the same group that runs Give to the Max. While our annual campaigns are proceeding, we are also announcing the largest gift from a living donor in the history of Feline Rescue. Here are the donors' own words: "In our retirement planning, we were aware of the need to take an IRA required minimum distribution by age 70-1/2. We also learned that we could send that distribution tax-free to the charity of our choice, and we choose Feline Rescue. Giving these funds to Feline Rescue offers us some advantages in retirement and tax planning while allowing us to support an organization which is doing vital work in providing care, safety, and excellent forever homes for cats in need."    This gift is very helpful given our current reliance on one-time bequests and gifts to maintain our level of service while maintaining our financial reserves for a "pandemic day," which unfortunately has arrived. We are deeply grateful for all your gifts.
Moving Forward in a Time of Immense Uncertainty
A Message from Phil Manz, Executive Director
When interviewing for this job in September, I shared that the first reality of a leader is to define reality, which has been a daily challenge simply to get clarity on what is being communicated as our physical movements were being "locked down" and now "opened up." When many organizations seek to look ahead they review their strengths, weakness, opportunities and threats. Please feel free to provide feedback or ask questions on these by contacting me at 612-443-7276 or phil.manz@felinerescue.org.
Strengths:
Animal care facilities and caring for a pet in another household are identified as essential services in Minnesota.
Individual giving is showing positive results.
Applied for and received federal payroll protection program funding. 
Weaknesses:
Discovered challenges in implementing an online scheduling system for visitors and adopters before suspending shelter operations.
In pursuit of service, we all don't observe six feet of separation or consistent mask use.
Opportunities:
Huge influx of volunteers willing to foster cats.
Applied for and responding to additional questions for "Emergency Relief" funding from the American Society for the Prevention of Cruelty to Animals (ASPCA) and Best Friends.
Challenges:
Requirements to conduct transactions and payments online for adoptions have tested our systems, especially when trying to make sure cats receive needed services that are not presently available.
Understandable requirements for employers to inform their workforces of COVID-19 incidence while maintaining the confidentiality of people reporting, especially when the shelter volunteers operate as multi-tasking teams.
Why Feline Rescue will be conducting in-person adoptions
We have decided to conduct in-person adoptions because we believe our cats should be allowed 15 minutes or more to express their willingness to adopt the human(s) that are offering to provide love and care. One of our core values is compassion, where we acknowledge that our hearts, mind, and spirit are inspired by cats, so we are providing some time in a physical space for the cats and adopters to experience each other. This may slow down our rate of adoption compared to other models during this time as we humbly move forward during this trying time.
How You Can Help Feline Rescue
 Click here to see our adoptable cats.
Editor: Nancy B. MillerFeline Rescue, Inc. 651-642-5900 | felinerescue.org  | newsletter@felinerescue.org
Read more on this topic